Best Time of Year to Replace Roof in Iowa
Apr 15, 2020
Many homeowners prefer using asphalt shingles for their roof. There is a high chance that you also have asphalt roof shingles on your property. Some of the main reasons why asphalt shingles are a common choice are that these roof materials are relatively cheap, are quite durable, and are also aesthetically pleasing. Asphalt roof shingles typically last 20 years. Like many other roofing materials, they don't last forever. And with the materials' deterioration comes the need to replace them eventually.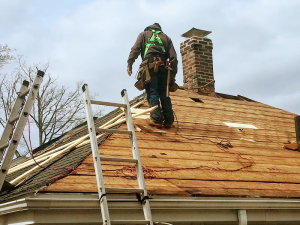 While you may have an idea when your roof is due for a replacement, you may not be ready to book an appointment with your contractor any time soon. Planning ahead, however, can actually do wonders for your roof, your budget, and your sanity. When timed right, replacing your roof might not be as much of a hassle as you'd expect. Sure, roofers will need to come over and the whole construction process isn't the most pleasant experience but there are certain times of the year when a roof replacement is a lot easier.
When you consider the different seasons, you might have an idea when the best time for a roof replacement is. However, there are actually a bunch of pros and cons to consider for each season. And the best time to replace your roof may not be what you think.
Winter
It's pretty obvious that the Winter season isn't the best time to get a new roof. But just in case you have no other choice, there can actually be some great perks of changing your roof in the winter. However, before considering the advantages, knowing the actual risks is important. Roofing in winter is dangerous because roofers have to work with a cold and slippery surface. Although Iowa licensed roofers are insured, no homeowner would want any accidents to happen on their property.
Aside from being dangerous to the people working on the roof, roofing materials become brittle and fragile in the cold. Your new asphalt shingles might crack during the installation process. Some roofers may have special tools but this also means that the process could end up taking longer than it would if you reroof your home during another season.
Spring
Spring may seem like a great time to get a new roof replacement but there are actually a few problems with roofing in spring. If your roof already has problems, you're probably looking at some damage from the winter snow. During the spring, any ice and snow that piled up on your roof will start to melt. But if your roof is still in great shape, the spring season could actually be a great time to get a new roof. The most popular season for roofing is in the fall so you won't have as much of a problem booking a replacement roof during spring.
Summer
Summers are hot. Getting a new roof just as the summer is starting may be a good option but when you're in the middle of the summer and the temperatures start to soar, it definitely isn't a great time to get roofing replacements. While many roofing contractors still do it, it is not a pleasant experience for many roofers. At the same time, the high heat softens asphalt shingles and makes these materials less durable while being installed.
Fall
The autumn season is the best season for roofing. The weather is great at this time of year with temperatures cooling down from the summer but not as cold as the winter. This allows roofers to spend longer hours on your roof and work with ease. The weather is also optimum for your materials; shingles are able to seal properly and have enough time to set in before the harsh winter weather comes. One of the problems with roofing in the fall is that it can get very busy. A lot of people may be vying for roofing appointments and you might not be able to secure a slot if you're not quick enough. In some cases, delays in other roofing projects could even push your schedule all the way into the winter season.
While you may not be too keen to get that new roof just yet, getting a new roof may be a non-negotiable. Eventually you will have to get your old roof replaced, especially if you don't want any damage to seep in further into the interior of the structure. However, if you decide to push it off for as long as possible, you may find yourself at a point where you have no choice but to book a roofing Story City IA no matter what the season.
Related Posts:
How Does a New Roof Add Value to a Home?